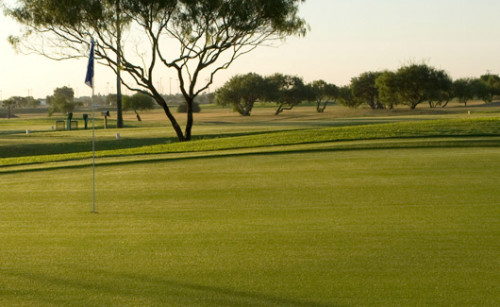 Seeded Seashore Paspalum
True to its name, seashore paspalum is known for its excellent salt tolerance and is most commonly found on golf courses and home lawns located in hot and humid coastal climates.
Seashore paspalum requires a minimal amount of fertilization and water. It can be mowed between one eighth and one half of an inch in height. Seashore paspalum has shown heightened performance in areas that are irrigated with effluent water or with naturally high salinity levels.
Ocean Mist & Ocean Shores Seashore Paspalum
Ocean Mist & Ocean Shores Seeded Seashore Paspalum brings new dimensions to warm season turf and reclamation seedings. Used to combat environmental extremes with environmental sensitivity, Seashore Paspalum is known for inherent salinity tolerance and can be managed with irrigation water from recycled water or water subjected to saltwater intrusion sources. Ocean Mist and Ocean Shores are low-input grasses that can utilize a wide range of recycled water and requires less nitrogen than bermudagrass. Suitable for greens, tees and fairways, sports turf, lawn & landscape. Ocean Mist & Ocean Shores can also grow under lower light intensity and waterlogging conditions better than bermudagrass. Found growing naturally in tropical and subtropical regions worldwide, Seashore Paspalum is found in coastal environments, often in brackish sand areas along marsh water and in close proximity to ocean waters. It also grows in areas that receive extended periods of heavy rains and low light intensity. In addition to managed turfgrass applications, other important uses are erosion control, wetland restorations, and site reclamation on oil and gas well sites, dams, dikes and burms.
Seeds/Pound (approximate): 850,000 Seeding Rate (Pounds/Acre): 90
Mature Height: 6" Growth Habit: Sod